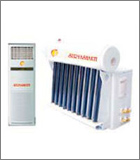 A one stop shop for all types of solar energy products and renewable energy products like Solar Air Conditioner, Evaporating Cooling System, Solar Torch, Solar Cell and Module, Solar Power Plant, Solar Street Light, etc.......
Know Us

With a mission to reduce Global warming and keep the environment safe, we, Suryashakti Systems have emerged as a key player in the solar energy and renewable energy products domain. We are identified in India and the world as a leading manufacturer, exporter, supplier, trader, and distributor of varied solar energy products. In our commitment to attain green energy-save earth, we look forward to acquire more and more prospective partners for mutual cooperation.
The range of products we offer includes Solar Air Conditioners, Evaporating Cooling Systems, Solar Torches, Solar Cells and Modules, Solar Power Plants, Solar Street Lights, etc. All our products find wide application in the industrial and domestic sectors. Incorporating latest technology and innovative methodologies, we manufacture our products in strict adherence to international quality standards, thus ensuring and enhancing their long term performance.
Committed to offer quality power control equipment, we continuously strive to devise newer methods of production. Being a client-centric company, we also offer unmatched after sales services comprising of repairing, maintenance & training related to the operation of the products. Our client oriented efforts have won us a long list of well-known patrons across the globe.